WooCommerce to BigCommerce Migration Service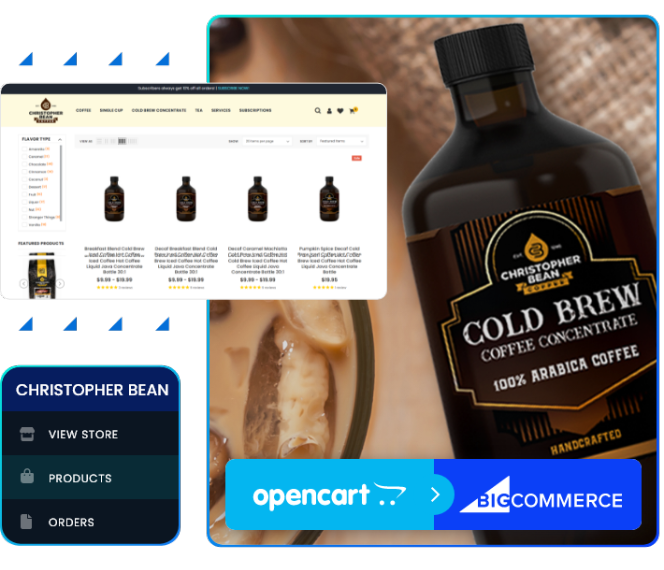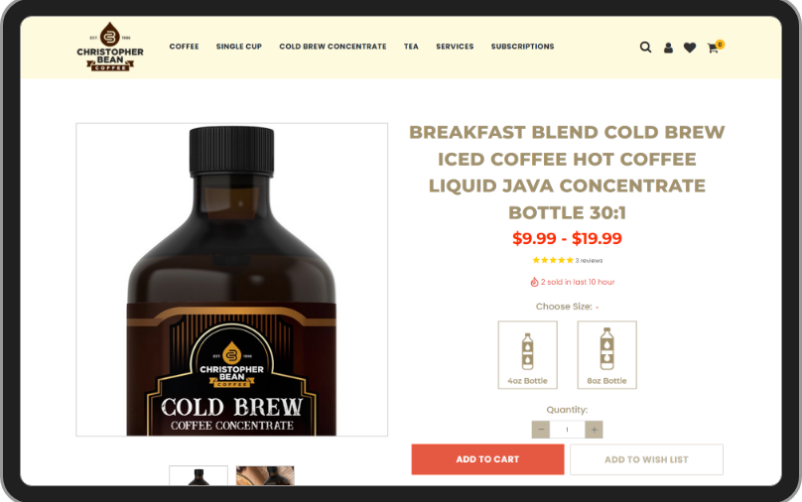 Planning to switch platforms? Here at AOC, we make migration manageable.
Always Open Commerce provides compelling reasons for you to make the big switch for your online store. Aside from WooCommerce to BigCommerce migration, we also perform other services like digital marketing, designing product catalogs, cloud-based product information management, and providing a support team for shorthanded clients.
How our experts perform the migration.
A full migration is not a walk in the park, even for experienced platform migration professionals. That's why we believe in educating clients on how an entire WooCommerce store migrates to BigCommerce – and the fundamentals involved in the process. Here's a simple rundown of how WooCommerce to BigCommerce migrations work:
Step 1
Prepare backup for your online store's data
It is nearly mandatory to back up information such as product details, customer data, existing customers' orders, inquiry forms, and other essential variables. Backing up will prevent data loss due to unexpected interruptions during the migration process.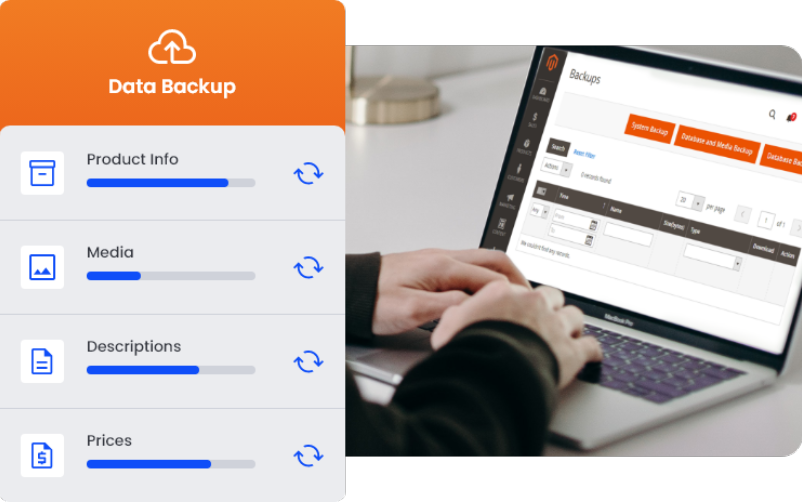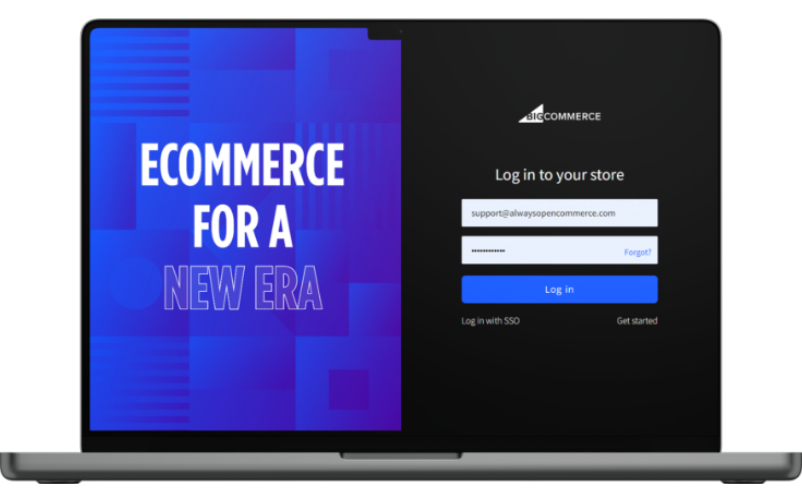 Step 2
Launch and connect your BigCommerce Store
Sign up for an account with BigCommerce. Input your existing online store name, a brief of general information related to your e-commerce business, and company profile or history. Provide a Username/Client ID, API token, and API path for your new BigCommerce store. Our support team will assist you on this.
Step 3
Select and review additional options and conduct a demo migration
Before transferring data from WooCommerce to BigCommerce, carefully review additional options our migration experts may provide you. Entities such as product IDs, HTML tags, or product filters may be preserved and migrated to the Target Store. After reviewing, run a demo migration to help identify and address potential risks.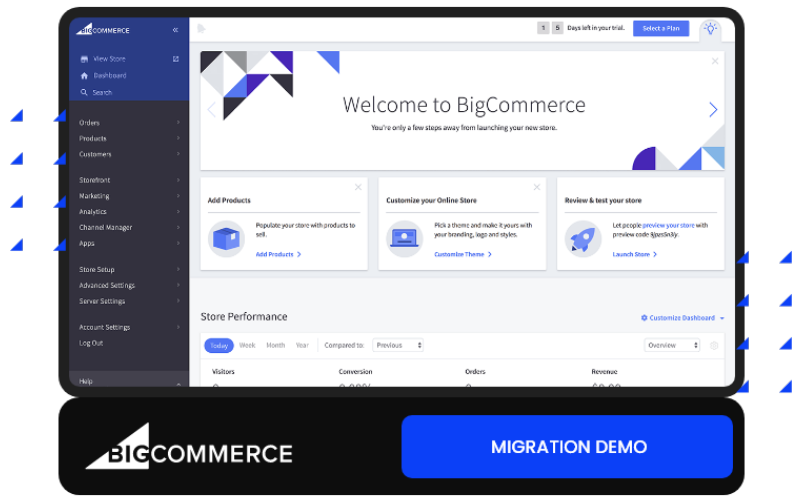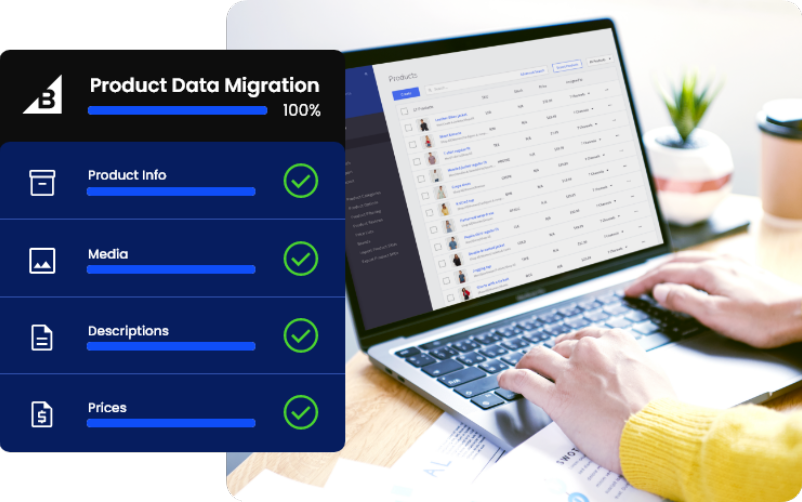 Step 4
Perform full migration and check the results
Most migrations from WooCommerce to BigCommerce run for about 30 minutes to an hour. In loaded transfers, migrations can run up to 3 hours. After the migration process, check if all data is transferred accurately and without error. By this time, you are ready to develop and design the actual BigCommerce store.
Step 5
Store designing and development
After completing the primary task of migrating data from your WooCommerce store to BigCommerce, it's time to develop and design the look of your new site. Our designers may help you in choosing a theme and our developers will conduct tests regularly to polish the UX.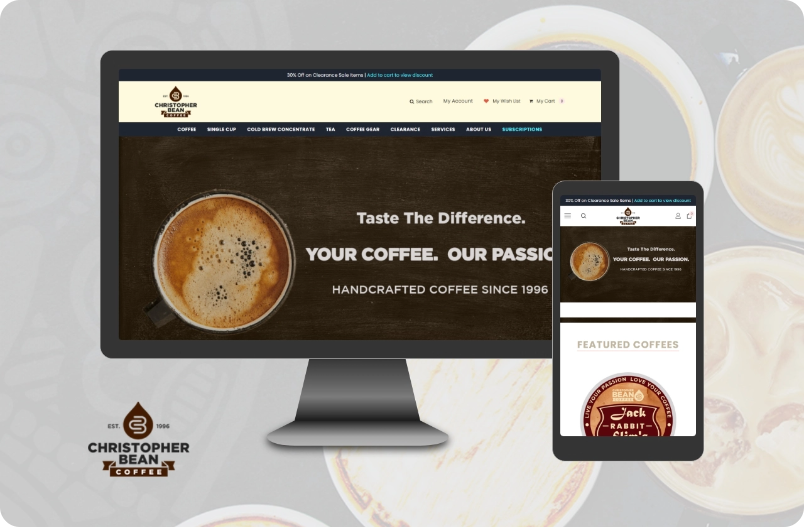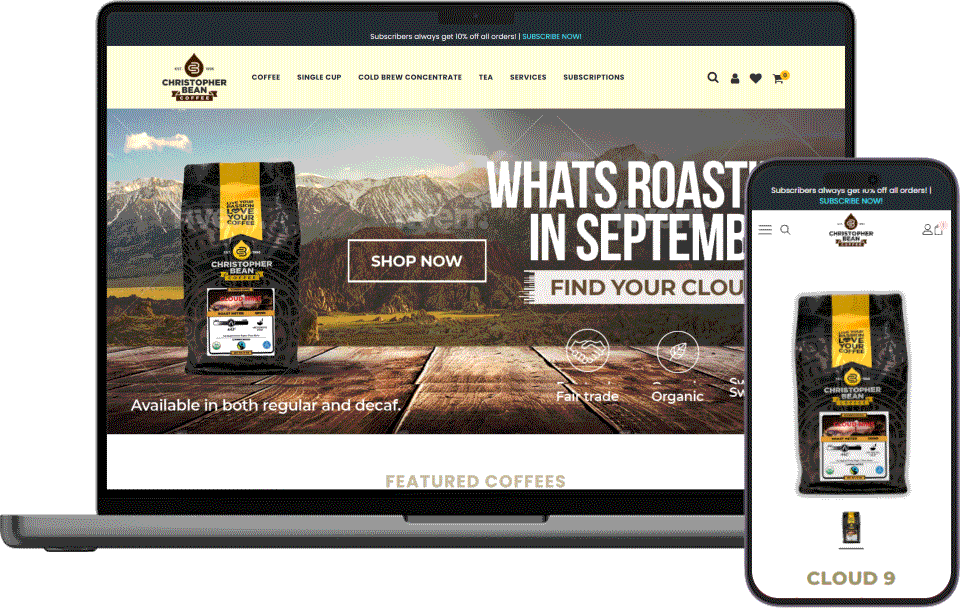 Step 6
Going live with your new store
After checking that all third-party APIs are functioning without issues, our developers will notify you that your domain (the home of your new store) is ready to go live and can now accept internet traffic. Periodic tests will still be conducted to ensure site stability and a smooth UX for site visitors.
Disclaimer: When online stores migrate from WooCommerce to BigCommerce, actual process flows may vary depending on the 3rd-party tools and applications used in migrating data. Our data administrators and web developers will discuss this with you during onboarding. The above information is a general process flow that most data migrations follow.
What data can be migrated from
WooCommerce to BigCommerce
Product name, product ID, and SKU
Product images, lifestyle photos, studio-shot photos, etc.
Product name, product ID, and SKU
Product images, lifestyle photos, studio-shot photos, etc.
Orders by date of placement
Price, Discount, and Payment Methods and Channels
Order information ie. shipping details, shipping instructions, sequences, etc.
Basic data – customer names, contact details, customer group demographics such as gender and income range
Behavioral data – free trial sign-ups, logins, deactivations, license purchases, upgrades and downgrades, ratings, reviews, and surveys
Interaction data – page views, subscriptions, downloads, social media shares, demo requests, and email inquiries
Other Online Store Assets
Existing Collections and Categories
Images, photos, and layouts from the manufacturer or distributor
HTML tags and product filters
Get Started Today
We offer a risk free month trial for qualified new clients. No upfront payment required.