The world of eCommerce is constantly changing at a very fast pace. Given this, for businesses to thrive and stay ahead of the competition, they need to make use of new methods to streamline their operations.
With Shopify Magic as one perfect example, Shopify has implemented the use of artificial intelligence, more popularly known as AI, as one particular tool to help merchants optimize their product descriptions and provide a better shopping experience for their customers.
In this article, we'll take a closer look at Shopify's use of AI to make it more convenient for merchants to produce descriptions of their products more quickly and easier than ever before. We'll also cover the advantages and disadvantages of using AI for product descriptions to have an in-depth perspective on what this can mean for businesses in the future.
An Overview of Shopify's AI-Generated Product Description Tool
Shopify, one of the most popular eCommerce platforms on the market today, makes it easy for businesses of all sizes to open an online store. It's highly-customizable courtesy of its multitude of themes, and provides a simple checkout process, alongside a wealth of functionality, making it a perfect platform for every merchant.
To make launching products much easier for merchants, Shopify Magic is a recently-developed AI tool that Shopify has created to make the entire product description process easier – adding yet another reason for merchants to choose this platform for their stores.
How Does Shopify Magic Work?
Shopify Magic works by collecting information about customers and automatically making templates that describe products. This makes it easier to write descriptions for a store's products. This frees up a lot of time for merchants, so they can focus more on the other essential elements of their businesses.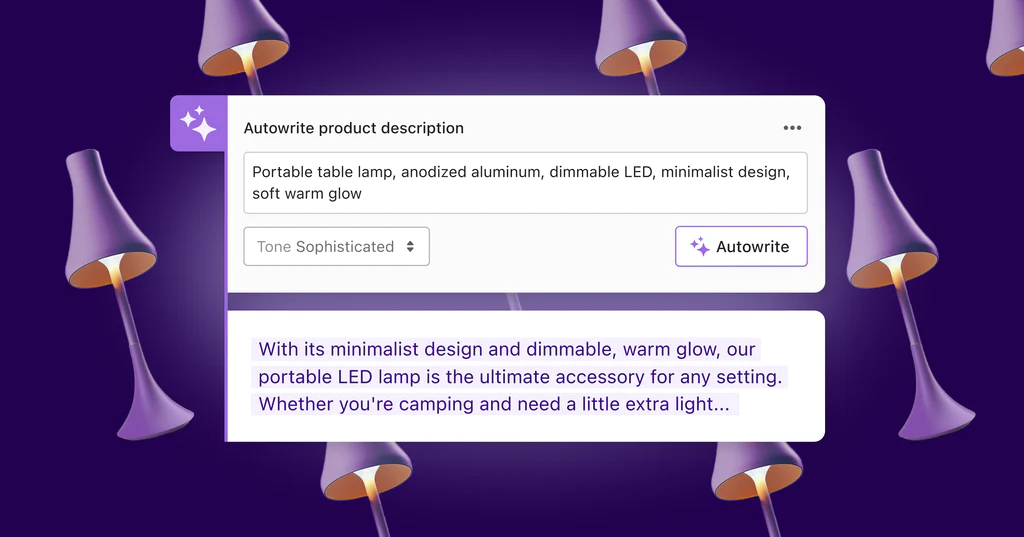 Even though this new technology is still being tested, Shopify plans to make it available to all merchants in the future. In addition to saving merchants time when writing product descriptions, using Shopify Magic will allow them to provide product descriptions that are more precise and consistent throughout their entire product catalog.
Shopify Magic, as a whole, is a noteworthy innovation for every business owner who wishes to make the process of writing product descriptions easier while also ensuring that they're true to the products and stores they're promoting.
With this, using an AI tool like Shopify Magic is only one of the many ways that Shopify uses technology to further enhance the functionality of its platform. Shopify is always coming up with new ideas and investing in new technology. This makes it a great platform that can give its users a better experience and more useful tools.
Advantages and Disadvantages of Using AI for Product Descriptions
Using an AI tool like Shopify Magic enhances the functionality of Shopify. This way, the platform can deliver more accurate and useful product descriptions by analyzing consumer data, giving merchants more time to pay attention to the other important facets of their businesses. This makes Shopify a more productive and efficient platform for customers, as well as businesses.
However, the implementation of an AI tool like Shopify Magic also comes with a few drawbacks. Let's take a look at the advantages and disadvantages of using AI for product descriptions in this section of the article.
Advantages:
You can use AI to produce accurate product descriptions
AI can help you in developing original content and compelling product descriptions
Using AI makes it easier to find and fix mistakes in the descriptions of your products
AI can assist you in making your product descriptions more optimized for search engines, allowing you to receive more traffic to your store and gain more customers
Disadvantages:
It can be challenging to find the right AI tool to help automate the process because product descriptions are sometimes lengthier and more thorough
AI system should be continually evaluated and updated for it to deliver the most recent business developments and linguistic specifications
Sometimes, the description that AI provides isn't always correct, thus there is a need for an actual person to edit and proofread them to make sure they're factually correct
How Does Using AI Benefit Businesses in the Future?
The use of AI in businesses in the future is virtually limitless. Using AI can do so much more than just simply help merchants streamline their product descriptions, as exhibited by Shopify Magic. AI can provide many benefits that can help merchants manage their stores easily and more efficiently in so many different ways.
For one, AI can assist stores in personalizing their product recommendations for every consumer, ensuring that they are offered relevant suggestions based on their profiles and purchase history. AI-powered chatbots can also respond to customer inquiries, reducing the load on customer support agents while boosting customer satisfaction at the same time.
AI can be used to design and run automated marketing programs, too, allowing for more precise customer messages. Moreover, it can be used to manage inventory, track customer behavior, and forecast trends to stay ahead of the competition and provide better service to your customers.
Final Thoughts
Shopify's use of AI to streamline product descriptions is an innovative and successful strategy to improve the consumer experience for every shopper. With Shopify Magic, AI can be used to make more accurate and interesting product descriptions that are tailored to each user. This helps Shopify increase conversion rates and customer satisfaction. This technology also speeds up and simplifies online shopping by making sure that all products are shown correctly and clearly on all platforms.
Shopify is consistently at the forefront of the industry as AI technology advances. By staying on top of trends, this platform can continue to be a leader in eCommerce and give customers a shopping experience that is second to none. Businesses can save time and money while giving their customers more precise and interesting product descriptions with the use of this technology.
As one of the leading eCommerce platforms, Shopify is no doubt an excellent pick if you're planning on launching your online store – and we can do that for you. Visit us at Always Open Commerce so we can work together and set up your Shopify store.