BigCommerce is the perfect platform for B2B owners looking to elevate their online presence. Having a strong and efficient e-commerce platform is crucial for every B2B company today. And BigCommerce takes the lead in popularity and functionality.

With its powerful features and user-friendly interface, BigCommerce has become the best choice for countless businesses worldwide. But how does BigCommerce outshine platforms like Shopify and Magento in terms of B2B functionality?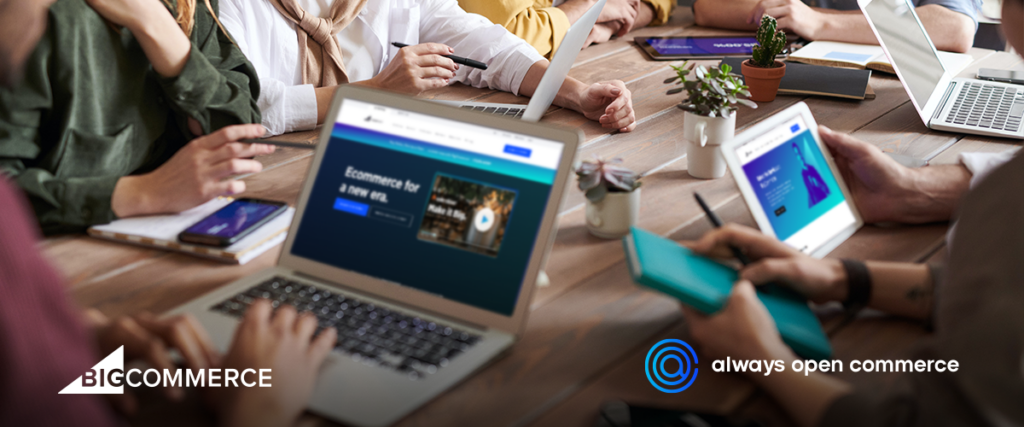 What is BigCommerce?
BigCommerce is an e-commerce platform that accommodates unique B2B business needs. It provides a compact solution for creating, managing, and optimizing online stores. With BigCommerce, you can easily set up your store without any technical expertise or coding knowledge.

One standout feature of BigCommerce is its multi-storefront compatibility. Empowering businesses to effortlessly manage multiple online stores from a single dashboard. This feature ensures seamless synchronization across different storefronts while providing enhanced control over inventory management, pricing strategies, and customer experiences.

What sets BigCommerce apart is its comprehensive suite of B2B tools. From personalized pricing and quoting systems to customer group segmentation and custom catalogs, BigCommerce empowers B2B businesses to create tailored experiences for their clients.

BigCommerce offers seamless omnichannel capabilities. You can sell across multiple channels like social media platforms and marketplaces while maintaining centralized inventory management.

The platform has a built-in SEO feature. This allows you to effortlessly optimize your store's visibility in search engine rankings. This ensures that potential customers can find your products quickly and easily.

BigCommerce also boasts excellent security measures to safeguard sensitive customer data and protect against fraud. Whether a startup or an established enterprise, BigCommerce will give you a competitive edge.
What makes BigCommerce the most popular B2B platform?
BigCommerce became the go-to B2B platform for businesses, and there are factors that contribute to its popularity.
Customized Purchasing Experience
Merchants can wave goodbye to monotonous online shopping experiences and say hello to customized purchasing adventures that leave customers spellbound. It's like entering a virtual wonderland where every product, every detail is tailor-made just for you. Reimagine what it means to shop online with BigCommerce as your trusted guide into a world of exquisitely curated purchasing experiences.
Modernized Buyer Portal
BigCommerce is the ultimate modernized buyer portal that will revolutionize your business. With its cutting-edge features and technology, BigCommerce offers an exhilarating platform for entrepreneurs and established businesses alike. It has seamless drag-and-drop customization options that allow you to effortlessly create a visually stunning online store. But it doesn't stop there!
Restricted Access
Security is one of BigCommerce's top priorities. Restricted Access is a cutting-edge solution designed to safeguard your online store. With this impenetrable fortress in place, Bigcommerce ensures that only authorized personnel are granted entry into your digital kingdom. Take control and experience the exhilaration of unrivaled security measures provided by Bigcommerce's restricted access feature!
These factors contribute to making BigCommerce the most popular B2B platform today. Its modernized buyer portal, restricted access features, and exquisite purchasing experience make it perfect for businesses to thrive in the competitive B2B e-commerce world.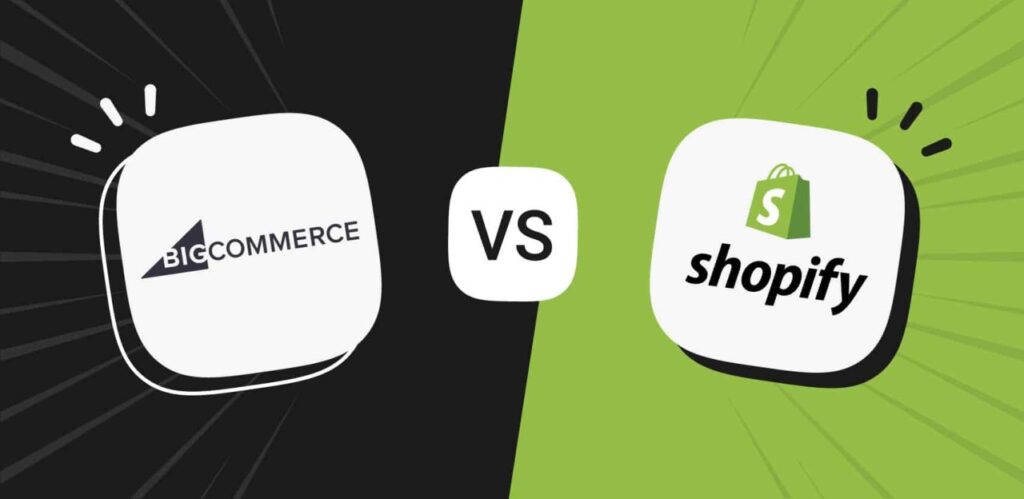 Why BigCommerce is better than Shopify for B2B functionality.
When it comes to B2B functionality, BigCommerce stands out as the better option compared to Shopify. Here's why:

1. Frictionless Purchases: Enhance transparency between buyers and sellers while fostering stronger relationships built on trust. Suppliers gain insight into customers' preferences and behavior patterns, enabling them to anticipate demand accurately while offering customized pricing models or volume discounts.

2. Easy Reordering: BigCommerce enables you to create custom reorder templates tailored to your unique buying needs. Simply select from pre-populated lists or personalize them further by adding specific quantities or variations.

3. Robust SEO capabilities: BigCommerce goes above and beyond by providing advanced marketing tools such as SEO optimization, social media integration, and abandoned cart recovery – ensuring maximum visibility and sales conversion rates. It has features such as customizable URLs, meta tags optimization, XML sitemaps generation, and more.Planning to switch from Shopify to BigCommerce, try our Shopify to BigCommerce migration service? Our team of brilliant minds have mastered every aspect of BigCommerce website development and design. You'll be amazed about what we can do!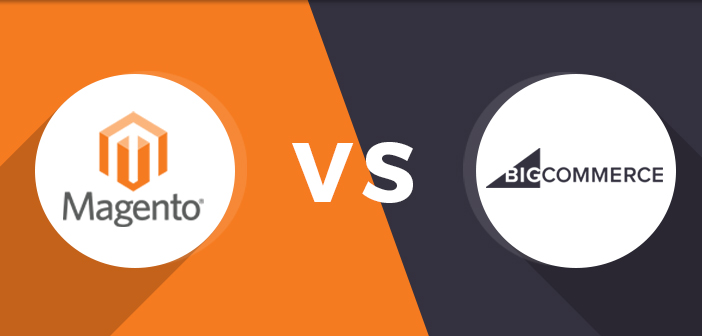 Why BigCommerce is better than Magento for B2B functionality.
BigCommerce stands out for its B2B functionality as the superior choice over Magento. Here's why:

1. Quick Order Pad feature: This ingenious tool avoids tedious browsing, and allows you to swiftly add multiple products to your cart. Whether it's bulk ordering or catering to time-sensitive demands. You can effortlessly create custom lists of frequently ordered items and breeze through reordering tasks like never before.

2. Advanced Product Management: BigCommerce provides robust product management capabilities specifically designed for B2B businesses. With features like bulk pricing and custom catalogs, managing large inventories becomes a breeze. In contrast, Magento requires extensive customization to achieve similar functionalities.

3. Scalability and Performance: When handling high traffic volumes and supporting rapid business growth, BigCommerce has an edge over Magento. Its cloud-based infrastructure ensures fast loading times even during peak demand periods.

4. Mobile Optimized Buying Experiences: Immerse in a visually stunning and user-friendly interface designed specifically for mobile devices. Browsing through different categories and comparing prices becomes an exciting adventure rather than a tedious chore.

5. Seamless Storefront Integrations: The checkout process becomes streamlined and intuitive; it feels like smooth transitions between steps. From selecting sizes and colors to entering payment information, every action flows seamlessly from start to finish.Our team of seasoned experts in store migration from Magento to BigCommerce will transform your online store into a mesmerizing digital masterpiece that captivates your customers from their very first click.
Why businesses are migrating to BigCommerce.
Businesses are increasingly migrating to BigCommerce for a variety of reasons.
BigCommerce's robust B2B functionality that specifically caters to the unique needs of business-to-business transactions is one factor. With features like custom pricing, bulk ordering, and tiered pricing options, BigCommerce allows businesses to easily manage their wholesale operations.

Another reason is its scalability. As companies expand, they need an e-commerce platform that follows evolving needs. BigCommerce offers flexible plans and advanced integrations that enable businesses to scale seamlessly without worrying about technical limitations or performance issues.

The platform has an interface that allows businesses to easily establish and manage their online stores. BigCommerce offers customizable templates and themes, enabling businesses to create a professional-looking site that reflects their brand.

BigCommerce prides itself on providing excellent customer support. Businesses can rely on the platform's dedicated experts, available 24/7 to assist with technical issues or questions.

Many businesses choose BigCommerce because of its built-in SEO capabilities. The platform has all the necessary tools and features to optimize websites for search engines, helping businesses increase visibility and attract more organic traffic.BigCommerce has become the most popular B2B platform for businesses. Its reliable features and flexibility make it an ideal choice for companies expanding their online presence and optimize their B2B operations.
So if you're ready to take your B2B business to new heights with an industry-leading -Commerce solution that combines power with simplicity – look no further than BigCommerce. Empower your business today with the most popular B2B platform! From migration to full website development and design, our Always Open Commerce experts are up to the task. Reach out now for more information today.